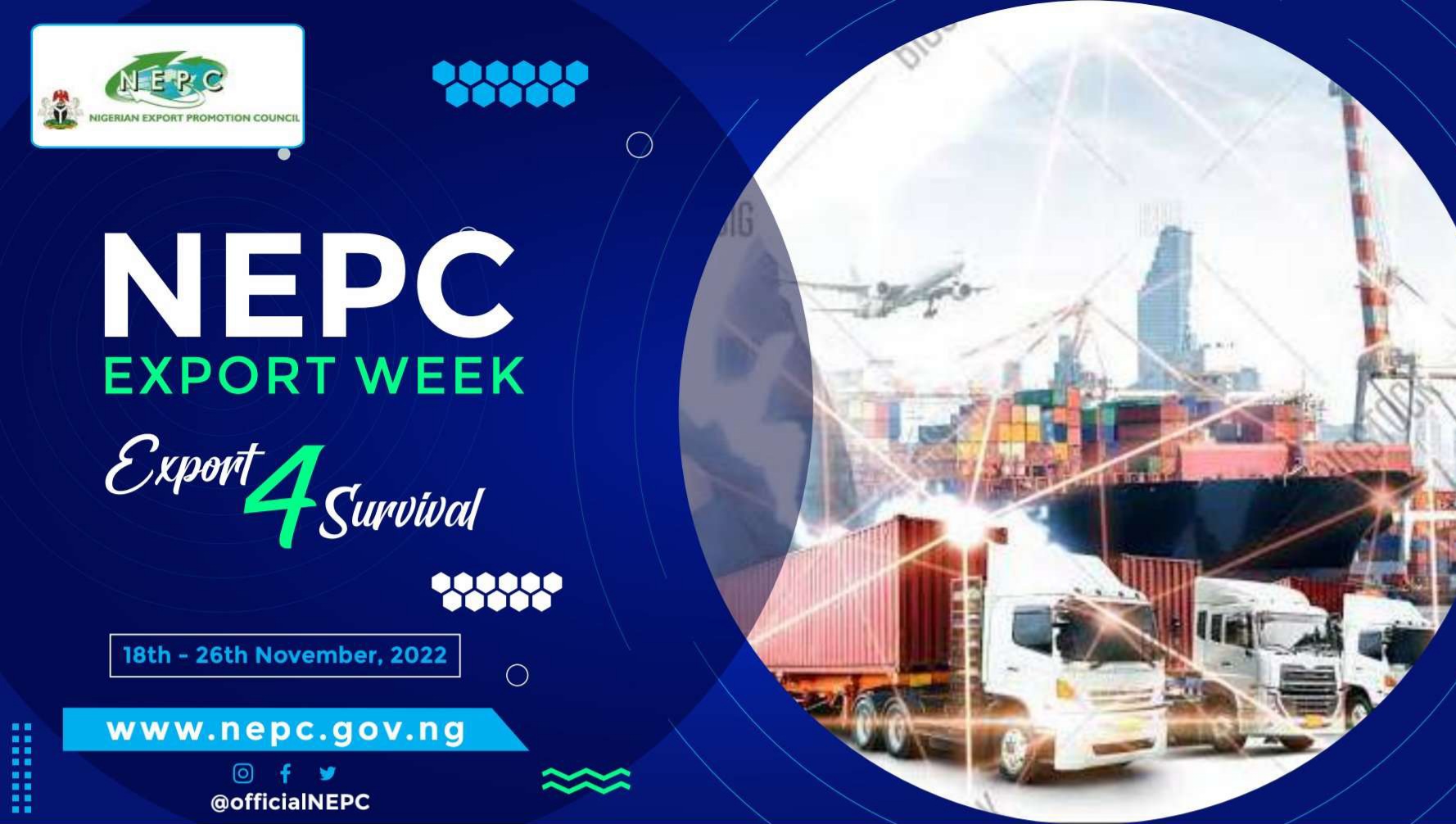 November 6, 2021

NIGERIA CASHEW FACTS Production 60 years in production. 220 – 240,000 tonnes inshell. 6th largest in the World. 3rd in Africa. 22 States Producing. Smallholders...

November 6, 2021

NIGERIA GROUNDNUT FACTS  Production Nigeria's groundnut since 1912 3rd largest in the World with 10% of global production. Number 1 producer in Africa with 39%...

November 6, 2021

Production Soyabeans were introduced to Nigeria in 1908; The first export was in 1947. Improving quality and increasing yields 17 Producing States. Smallholders and...
August 17, 2023

The Nigerian Export Promotion Council (NEPC) has launched the Youth for Export Programme (YEP) targeted at empowering the youth with skills and expertise to...

June 27, 2023

As part of efforts to boost and promote the export services, the Nigerian Export Promotion Council, NEPC, has organized a football talent hunt for...
October 4, 2023 – October 5, 2023

Theme: "Building a Sustainable National Economy through Non-oil Export". The event will provide a platform for sharing ideas and viewpoints on current and emerging issues...
I attended a 'getting ready for export' program organised by NEPC. It was at the event I learnt about barcodes as a prerequisite for export, I was able to obtain the barcodes  and my products are now available in leading pharmacies, supermarkets and online stores. Without the barcodes, the products wouldn't have achieved the market penetration and acceptance they presently enjoy –
All thanks to NEPC.
Oluwakemi Ajiboye
This is to express my gratitude and deepest appreciation for your efforts in linking me to a buyer. The buyer and I have agreed terms and the supply will happen soonest. I wish other Agencies of Government are pulling in their weight the way the NEPC does
I am really grateful Sir
Thank you 
Chinonso
Please lets applaud NEPC, Renewed my certificate online this morning, paid remita at 11:35 and by 12:05 my certificate was ready and I have printed it out.
Not 24 hours again but less than one hour. More of this from Agencies of Government.
From a satisfied exporter
FIND YOUR LOCAL SUPPORT OFFICE
Loading: NEPC Offices Map
ADVERTISE
YOUR
BUSINESS
HERE