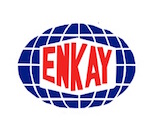 Enkay Indo Nigerian Industries Ltd.
Enkay is a leading exporter of agro products from Nigeria. We are well established, with almost twenty years of presence in Nigeria. Our core strengths are:
our capabilities to procure quality agriculture produce directly from the farm
in-house capacities for primary processing of agro commodities and
customised solutions for customers
Dry split ginger
Raw cashew nut
Sesame seed (oil)
Product / Service examples
Phone:
+234 8086664500
E-mail:
Website:
Address:
31 Obalodu Street
Ilupeju
Lagos, Nigeria
Contact Person Name:
Mr P.K. Mehta
Contact Person Phone:
+234 8086664505

Contact Person Email:
Contact Enkay Indo Nigerian Industries Ltd.