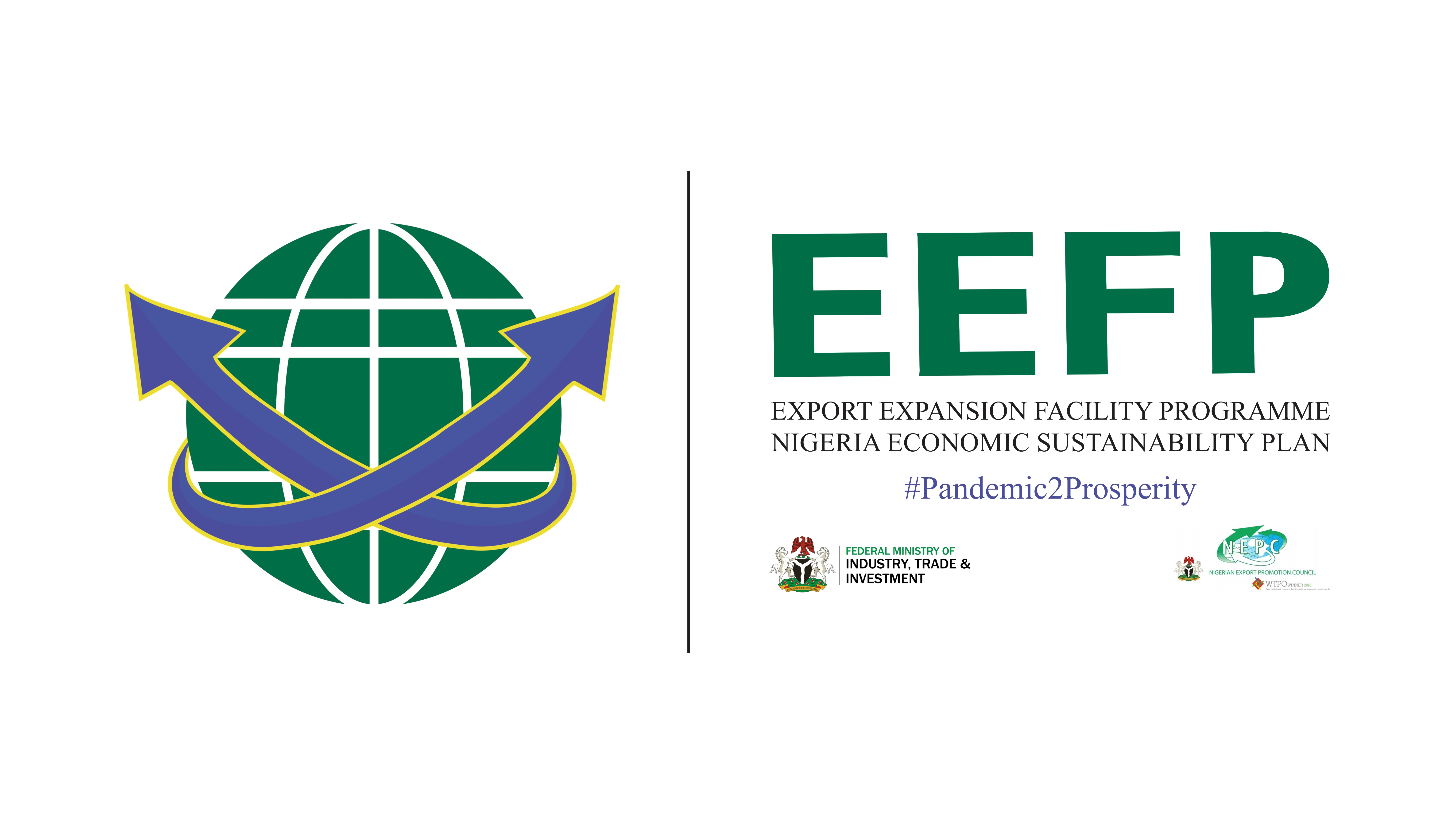 #Pandemic2Prosperity
Export Expansion
Facility Programme
A scheme under the Nigerian Economic Sustainability Plan of the Federal Government of Nigeria
October 14, 2020

Product Name:     -       Groundnut Botanical Name:  -          Arachis Hypogaea HS Code               -        120210   Brief Product Description: It is a pulse...

October 14, 2020

Product Name:     -          Soya Beans Botanical Name:  -          Glycine Max HS Code:              -          120100 Brief Product Description: The soybean or soya bean is a species of legume...

October 13, 2020

 Product Name:      Cashew nuts  Species:                Anacardium Occidentale  HS Code:              080131 (in Shell, Fresh or...
October 3, 2021

As an exhibitor, you will have unrivalled opportunities to present your business to thousands of buyers and stakeholders from the African continent and beyond. Click here...

May 1, 2021

This call for applications is addressed to SMEs and startups in the textile and garments value chain (including also Fashion, Interior Design and Life...
I attended a 'getting ready for export' program organised by NEPC. It was at the event I learnt about barcodes as a prerequisite for export, I was able to obtain the barcodes  and my products are now available in leading pharmacies, supermarkets and online stores. Without the barcodes, the products wouldn't have achieved the market penetration and acceptance they presently enjoy –
All thanks to NEPC.
Oluwakemi Ajiboye
This is to express my gratitude and deepest appreciation for your efforts in linking me to a buyer. The buyer and I have agreed terms and the supply will happen soonest. I wish other Agencies of Government are pulling in their weight the way the NEPC does
I am really grateful Sir
Thank you 
Chinonso
FIND YOUR LOCAL SUPPORT OFFICE
Loading: NEPC Offices Map
ADVERTISE
YOUR
BUSINESS
HERE