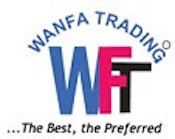 Wanfa Trading Nigeria Limited
Wanfa Trading Nigeria Limited has been a reliable farmer, processor and exporter for decades. The company sells natural sesame seed and tahini of 99.9% purity in domestic and international markets. We are recognized as one of the leading growers of sesame seeds, stocking three different sesame seed products.
All products are sourced from our established farmer cooperatives. This ensures sustainability and enhance our supply chain efficiency, food safety and adherence to contract terms. Our farmers are trained regularly on Good Agricultural Practices (GAP) as part of our commitment to fulfill Corporate Social Responsibility. Our processing lines are equipped with ultra-modern machine of Israeli technology.
Asia
Eastern Europe
Middle East
Natural sesame seed
Tahini
Product / Service examples
Phone:
+234 803 586 8167
E-mail:
Website:
Address:
Km 5, Industrial Layout
Naka Road Makurdi
Benue State, Nigeria
Contact Person Name:
Mr. Hyacinth Orpin
Contact Person Phone:
+234 803 586 8167

Contact Person Email:
Contact Wanfa Trading Nigeria Limited