As one of the global producers of cocoa, Nigeria offers large volumes and wide varieties of cocoa products. Find out more below.
Nigeria is a major exporter of premium quality raw cocoa beans renowned for its aromatic and smoother flavor, because of the variety stock from which it originates.
We can guarantee a reliable and sustainable supply base. Our large production base is reflected in being the fourth largest producer worldwide.
Our liberal cocoa market stimulates competition. This leads to competitive prices in the international market, compared to other significant regional suppliers.
We are in large development of substantial cocoa processing capacity. Our capacity of value-added products such as cocoa butter, powder, liquor, paste and cake becomes larger and larger.
Nigerian cocoa is ethically sourced with a strong advocacy in the sector against the use of child labour.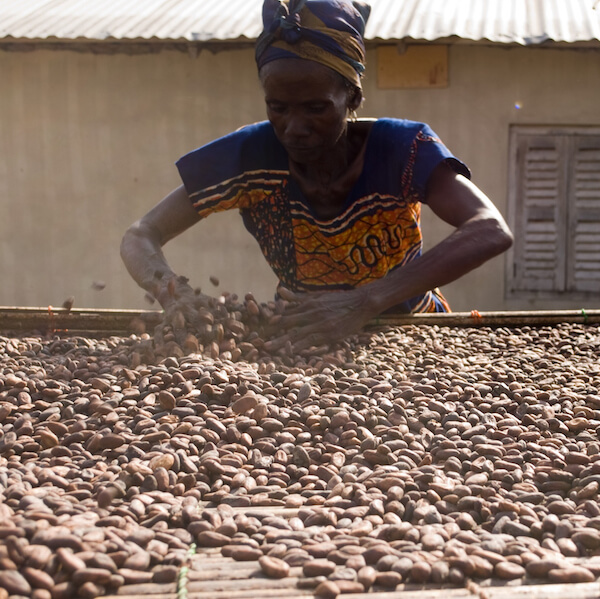 Nigeria is a leading player in the global cocoa industry. We are the fourth largest producer, covering 6.5% share of global production. The production is projected to grow by 4% per annum in coming years. We are, with over 700 million USD, also the fourth largest exporter of cocoa beans worldwide.
Nigeria's climate supports production and supply of cocoa beans from October to June. This is a relatively long cocoa production period where1.4 million hectares of farmland is cultivated. Herewith, our country can always guarantee supply.
Nigerian cocoa boast excellent qualities such as:
good bean count
low slatey
low mould
and strong aromatic and smoother flavor
The Nigerian cocoa sector is dominated by smallholder farmers numbering at 300,000 – 350,000 with some commercial plantations. The average cultivated area is 1,400,000 hectares. Cocoa is our number one exportable product (not including oil). The local processing industry is growing fast. This increases employment within the sector and therewith our capacity of a wide variety of processed cocoa products.
Cocoa beans account for almost 90% of the 804 million USD of Nigerian cocoa exports. Cocoa butter and cocoa paste are also exported quite significantly (respectively 67 million and 28 million USD). Find more about the trade performance of our beans in the graphs below.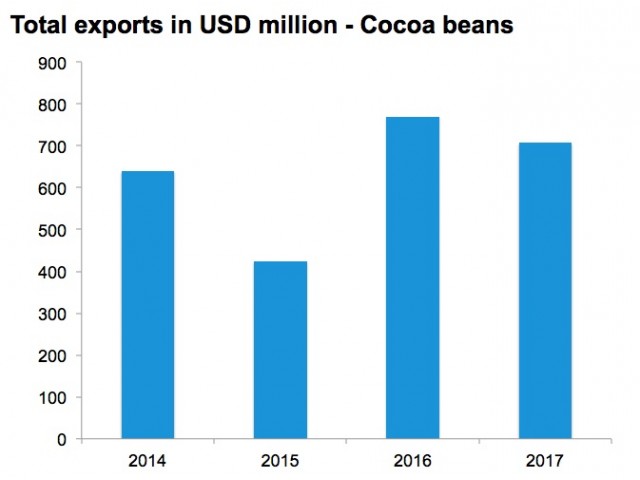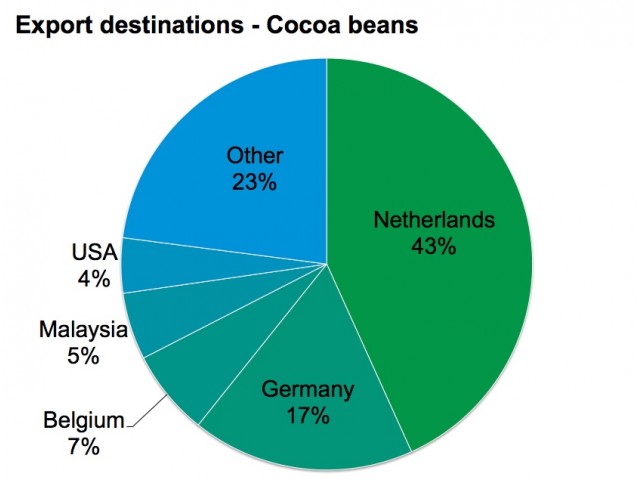 The Council widely supports cashew trade from Nigeria. Key activities include:
Exporters' directory
The NEPC provides a platform for prospective buyers to source for information on reliable exporters of cocoa.
Exporter certificate verification portal
Being able to authenticate the export credentials of a company is a very important step in establishing confidence. The NEPC provides an electronic method of verifying the exporters' certificate.
Product map
Where location of products is important to a buyer, a display of geographical locations of products in states/regions in Nigeria is available. A buyer can have a firsthand view of the products available in different parts of the country.
International Trade Shows
Periodically the Council presents opportunities for face to face contact between Nigerian sellers and international buyers of made in Nigeria products through participation in International Trade Fairs, Solo Exhibitions, Trade missions amongst others . This allows export deals to be concluded in a conducive environment.
Want to know more about our support? Contact us!
CAN was established in 1986 to meet peculiar needs of cocoa farmers, processors and other stakeholders. It aims to ensure sustainability and development of the Nigerian cocoa industry. The organization is the private sector representative of Nigeria in all international cocoa organizations. They:
foster collaboration for growth in the cocoa industry
empower cocoa farmers for better production, quality, etc.
promote development of yield and quality of cocoa meeting international standards
ICCO is a global organization composed of both cocoa producing and consuming member countries. The organization supports:
ensuring remunerative prices for farmers
ensuring market transparency through sustainable production and consumption
establishing a Cocoa Information Centre in order to assure open flow of information to all sector stakeholders
Tulip cocoa is a subsidiary of Theobroma, a leading independent trader and marketer of cocoa products and beans since 1922. We operate according to international quality standards and are certified by SGS on ISO22000:2005. This makes our products perfectly suitable for international markets. The brand Tulip Cocoa acquired proprietary production of cocoa products… [
Show:
Tulip Cocoa
]