NEPC picks second position in Website rankings
The Nigerian Export Promotion Council (NEPC) has ranked second out of 169 Ministries, Departments and Agencies (MDAs) at the 2019/2020 Federal Government Scorecard for ranking Websites of Federal MDAs. The Award which was officially released by the Bureau of Public Sector Reforms (BPSR) at a ceremony in Abuja, is aimed at ensuring that MDAs' website meet global standards.
According to the BPSR "The objectives of the Scorecard include among others, to improve access to government information, improve access to government services online, eliminate corruption in public financial and business administration as well as curb scams and online fraud associated with government websites.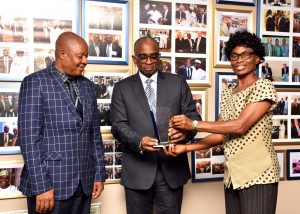 It will be recalled that the NEPC also emerged as the Third Freedom of Information Act (FOIA) most compliant and transparent public institution out of 211 public institutions covering the Executive, the Legislature and the Judiciary.
Both Awards are in pursuit of the Executive Order 01 on "Ease of Doing Business" and the "Freedom of Information Act" (FOIA) 2011.
The Awards are coming on the heels of the "Best Initiative on Trade Inclusiveness and Sustainability Prize, which the Council won in 2018 at the World Trade Promotion Organization (WTPO) Awards in Paris, France.
Currently, the NEPC is on the verge of automating the Exporter Registration platform with the aim to have paperless registration by the year 2021.