To export from Nigeria, you are required to register with NEPC. This can ONLY be done using the e-registration platform. This page contains  relevant information preparatory to obtaining an Exporter's Certificate.
Additional benefits
In addition to obtaining an exporters certificate , you can also access the following trade support services:   
export incentives
Export capacity building programmes (trainings, seminars, workshops etc)
Networking exporters for collaboration  and exchange ideas.
Trade linkages (B2B, B2C)
Guidelines & procedures
The documents required for registration depends on the business entity:
Documents for Limited Liability Company
Certificate of Incorporation (issued by the Corporate Affairs Commission)
Certified True Copy of Memorandum and Articles of Association
Current Certified True Copy of From CAC 1.1 – "section C" (Particulars of Directors). This is formerly known as: Form C07 or Form CAC 7.
Documents for Co-operative Society
Certificate of Registration (issued by State Ministry of Commerce, Local Governments and Federal Capital Territory Area Councils)
Bye Laws of the Society
Documents for Government and non-Government Organization
Certificate of Registration (issued by the Corporate Affairs Commission)
Constitution of the Government Organization and non-Governmental Organization
Memorandum for Guidance of Applicant
Fees & charges
Obtaining an exporters certificate involves some costs excluding remita / bank charges
New certificate registration – N13,500
Expired certificate renewal – N7,500
Late certificate renewal (after Three months of expiry) – N12,500
Lost / mutilated certificate – N12,500 
Payment methods
There are several payment methods available, including:
Credit/ debit cards
International credit / debit cards
Internet banking
Commercial banks in Nigeria
Payment confirmation
Payment confirmation MUST be made by following these steps::
Copy the Order ID from your certificate (see Transactions Log)
Input it in the field besides "Get Status"
Click on "Get Status" to confirm your payment
You will receive a notification of the status of your payment
Validity
NEPC issued certificates are valid for an initial two years (24 months ), after which it becomes renewable every year.
Certificate Collection
Physical collection of certificates have been discontinued. Exporters no longer need to visit any of our offices to pick up their certificates. Please follow the instructions below to obtain a print out of your certificate.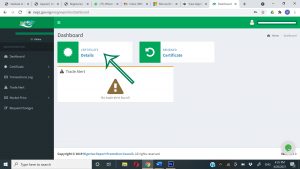 Step 1: Log into your account by visiting https://nepc.gov.ng/ereg/exporter and click on "Registration Details"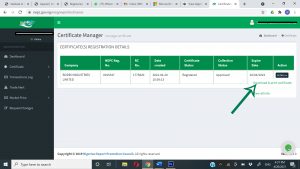 STEP 2: Click on the action button and select "download and print certificate" from the dropdown options  
Service timeline
Export certificates will be issued within one working day after confirmation of  payment. Please note that  your certificate could be delayed by non confirmation of payment , irregular documentation  or insufficient information.
Further registration Assistance
Please contact us directly via the online chat. Alternatively you can visit the NEPC export assistance office closest to you. We are happy to assist!
Visit the platform and follow the procedures to register. Please do not forget to confirm your payment!.