The STANDARDS ORGANISATION OF NIGERIA (SON) is the apex standardization body in Nigeria. It was established to prepare standards relating to products, measurements, materials and processes, certification of Industrial products as well as assist in the production of quality goods at the national, regional and international levels. The mandate of the organization includes the following:
Designation, establishment, approval and declaration of standards in respect of metrology, materials, commodities, structures and processes.
Certification of products in commerce and industry throughout Nigeria.
Quality control of products, weights and measures.
Matters relating to metrology- ensure reference standards for calibration and verification of measures and measuring instruments
Investigation of quality of products etc.
Enforcement of Standards.
Quality management.
HQ location
52 Lome Crescent
Zone 7
Wuse
Abuja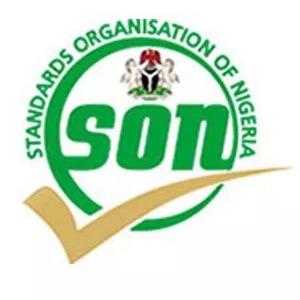 NEPC / Partner highlights
Collaborative meeting to synergize operations towards the development and growth of Micro, Small and Medium Enterprises in Abuja under the ENABLE 11 project
Member, Inter-Ministerial Committee on Food Rejects of Nigerian products – The Committee is to ensure consistent and stringent management of all exportable products